Loki!
Congratulations to our first April adoption Loki (now Peter Criss) on finding his forever home!

Also recently adopted: Rollie, Julliard, Sporty, Brunhilda, Micah, Shelbi, Conan O'Brien, Hansel, Gretel, and Ramsey!  Thank you to all of our adopters!
Learn More »
Jennifer
Say hello to the divine Ms. J! Jennifer is an angelic little girl who whiles the day away lazing in the sun, posing, and dreaming of snacks and a forever home. She is leukemia positive, but can live a long and wonderful life. Please visit her any day from 12 – 4. https://www.petfinder.com/petdetail/28830167
Learn More »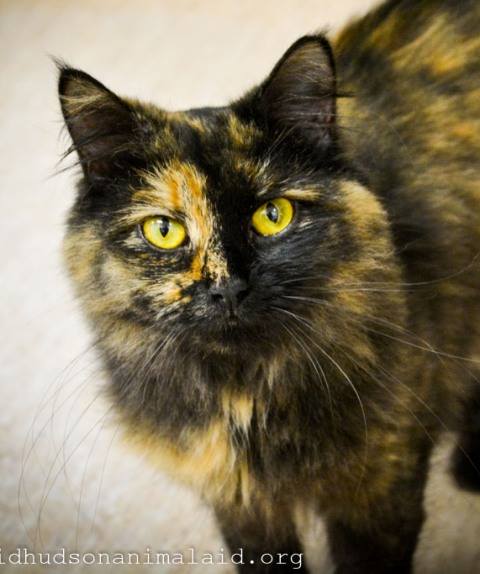 To our community of supporters, friends and family, it is with sincere gratitude for your tireless efforts that we are pleased to announce MHAA has received Second Place in the Ulster Savings Mid Hudson Heroes contest. The $1,500 prize will go towards relieving the pain and suffering of abandoned and abused cats. Thank you for voting and for sharing the belief that Mid Hudson Animal Aid is the best place to adopt a cat in the Hudson Valley!
Pregnant and homeless, Marceline stumbled into the yard of two animal lovers. Just a few short days after her arrival at MHAA, she went into labor. It became clear early on that she was in distress and was rushed to the vet. With two of her babies in a breech position, an emergency Cesarean section was performed to save both the mom and her babies. The tiny fourth baby was not breathing, but was revived and is being warmed and monitored round the clock. She also has a respiratory illness that may complicate matters even more. Please donate what you can to offset her emergency medical costs.

Mark your calendars- the MHAA 6th Annual Golf Tournament, Pars Fore Purrs will be on Monday June 29th at the …
Read More »
Looking to rock the night away to help our cats? Please join us on April 24th at 8pm at Quinns, …
Read More »
Mid Hudson Animal Aid continues to be inundated with calls to take in stray kittens. We would really like to …
Read More »
Our Feral Friends Program is designed to help the feral cats living at MHAA. If you are interested in becoming …
Read More »