Halley
We are so happy to announce that after six years with Halley has finally found her forever home!  Congrats to Halley and her wonderful adopter!
Congrats also to Smores, Brussel Sprouts, Ginsberg, Cassidy, Walker, Fenway and Antman who all recently went home!
Learn More »
Brownie
Meet Brownie our featured cat!  Brownie is a sweet kitty who loves to cuddle up to shoes and also loves dogs!  Learn more about her here.
Learn More »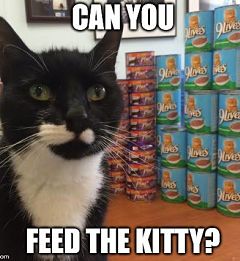 We are low on wet food for the shelter and need your help!  If you would like to help us, please bring donations by during our open hours or send them directly to us from our Amazon Wish List!  Thank you!
Kitten season is full swing!  Help us take care of our youngest residents by donating here.
Join us Sunday May 31st at 2pm in our shelter to see how you can be involved with our Fundraising …
Read More »
Save the date for our annual Volleyball Tournament!  This year it's July 25-26 at Memorial Park in Beacon.  Stay tuned …
Read More »
Mark your calendars- the MHAA 6th Annual Golf Tournament, Pars Fore Purrs will be on Monday June 29th at the …
Read More »
Mid Hudson Animal Aid continues to be inundated with calls to take in stray kittens. We would really like to …
Read More »