Veruca
Age: 1 year old
Likes: Veruca is a sweet and affectionate girl, who loves to be petted.
About: Veruca came to MHAA because she had her babies on someone's deck! Luckily, the person was kind and compassionate and brought Veruca to the sanctuary – and her babies were born happy and healthy. Veruca has now found her forever home. We wish her the best!
Learn More »
Mojito
Age: 2 years old
Likes: Mojito is extremely friendly and smart, and loves to cuddle.
About:  Mojito had to be given up by his owner because he was allergic to cats. Mojito and his friend, Siracha, came to the sanctuary together – and would love a home together. Mojito and his friend are both purebred Bengel cats. Mojito is neutered, has up-to-date routine shots, has a micro-chip (in case he gets lost), and is house-trained. Come for a visit and meet him – and fall in love!
Learn More »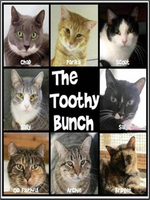 Stray and abandoned cats have less than ideal health and are at risk of developing dental related diseases. Become a MHAA Tooth Fairy and support our felines' dental health! Click here to donate.
Each year, over 3 million adoptable pets are euthanized in the USA. Spaying/neutering your pets helps prevent this. Please support MHAA's spay/neuter efforts by clicking here to donate.
Special Announcement!
RIBBON CUTTING!!  On September 4, join the Dutchess County Regional Chamber of Commerce for a Ribbon Cutting to celebrate Mid …
Learn More »
Join MHAA and our guest bartenders on Sunday, September 28th from 1pm- 4pm at our Newburgh Brewing Company fundraiser! Newburgh Brewing …
Read More »