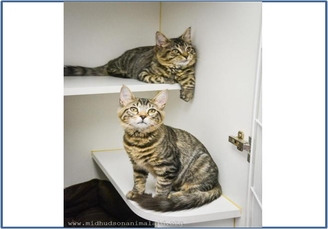 Crumpet and Wellington
Age: 4 months old
Likes: Crumpet and Wellington are both sweet and cuddly kittens who love to snuggle and play.
About: Crumpet and Wellington are siblings and were born under a bush. Their mommy got hit by a car, so someone brought both kittens to MHAA. We are happy to report that they were adopted by the same family and therefore are staying together in their new forever home.  We wish them both well!
Learn More »
Foxglove
Age: 3 years old
Likes: Foxglove is very friendly and likes to "chat" with you! She also likes children and gets along with them very well.

About:  Foxglove came to the shelter after a nice family found her on the street, took her in, and then brought her to MHAA. She is a sweet girl, but prefers to be the only pet in the house because she likes to have all the attention to herself. Foxglove has FIV (Feline Immunodeficiency Virus), which means her immune system is weak and she need to stay indoors and be fed very nutritious food. She also needs regular vet check-ups. She is spayed, has up-to-date routine shots, has a micro-chip (in case she gets lost), and is house-trained. Come for a visit and meet Foxglove and give her a chance!
Learn More »
MHAA has provided a stable and caring home for over one hundred kittens this season. With no end in sight, we anticipate many more will find comfort and warmth with us. Please click here to help  us continue our vital work and honor all the wonderful kitty moms.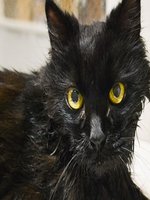 To be abandoned is horrifying and frightening for any cat. To endure this as a senior cat adds another level of terror. Please care and share to help Macho begin a second, happier life.
Special Announcement!
Join MHAA for our Holiday Open House on Saturday, December 13th from 12:30pm-4pm. Come meet our many wonderful feline residents …
Learn More »
Between November 28-30, enjoy a reduced adoption fee of $25 for any black cat with an approved adoption application! We …
Read More »
Mid Hudson Animal Aid continues to be inundated with calls to take in stray kittens. We would really like to …
Read More »
Meet Strudel! She's our featured cat for November and is available for adoption. Strudel also came to the shelter from …
Read More »
$50 ADOPTION SPECIAL! For a limited time, any cat that has been at the shelter for more than 3 years …
Read More »