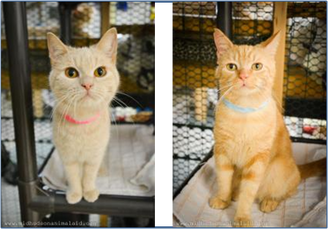 Clams Casino and Scampi
Age: Clams Casino is 10 months old and Scampi is 3 years old
Likes: Both Clams Casino (picture on the left) and Scampi (picture on the right) are sweet and cuddly cats who love to snuggle and play. Scampi particularly likes to hang around your neck, observing things from above!
About: Clams Casino and Scampi were both rescued from the same hoarding situation earlier this year and have adjusted very well.  While they were both adopted by separate families, we're happy to report that they were adopted during the same week and are now in their forever homes for the holidays. We wish them both well with their new families!
Learn More »
REDFORD
Our cat of the week is darling Redford, an amazingly social and loving boy looking for his forever home. He is also one of the featured "12 cats of Christmas", available for a reduced $12 adoption fee all this month. Please come by and meet him.
Learn More »
Reduced adoption fee of $12 on 12 featured cats all December long! Come meet Redford, Archie, Picnic, Chesterfield, Hoagie, Leela, Destiny, Galileo, Tiddles, Mousey, Sebastian Deck, and Knish!
Looking to make a difference in the lives of our beautiful kitties? Become a Kitty Kringle! A $10 minimum donation brightens the holidays for your sponsored cat. View our album on Facebook and select a cat to sponsor by writing sponsored under their picture. Click here to donate.
Special Announcement!
Join MHAA for our Holiday Open House on Saturday, December 13th from 12:30pm-4pm. Come meet our many wonderful feline residents …
Learn More »
Mid Hudson Animal Aid is committed to the health and safety of our Community Cats, especially through the winter season. …
Read More »
Mid Hudson Animal Aid continues to be inundated with calls to take in stray kittens. We would really like to …
Read More »
Meet Strudel! She's our featured cat for November and is available for adoption. Strudel also came to the shelter from …
Read More »
$50 ADOPTION SPECIAL! For a limited time, any cat that has been at the shelter for more than 3 years …
Read More »