Steak
Age: 4 years old
Likes: Steak loves to cuddle, give hugs and play.
About: Steak was rescued from a hoarding situation and has adjusted well. He is a very friendly cat and likes to play with children. He has now found his forever home where he can enjoy the warmth of his own bed. We wish Steak the best!
Learn More »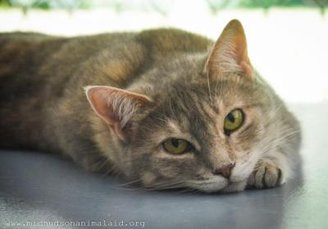 Folgers
Age: 5 years old
Likes: Folgers likes to nap in the window, with the sun shining on her.
About: Folgers came to MHAA as a feral mommy cat. It wasn't safe where she was living with her babies, so she was relocated to MHAA. She is still shy. She will need someone willing to work with her to build the trust she needs to interact with humans without being afraid. The care specialists at MHAA think she has potential, and that if she goes to the right family, someday, she could be a nice pet. She is spayed, has up-to-date routine shots, has a micro-chip (in case she gets lost), and is house-trained. For a limited time, Folgers is available for adoption for $50 as part of a special promotion for cats that have been at the shelter for over 3 years. Won't you come for a visit – and give her a chance?
Learn More »
MHAA has provided a stable and caring home for over one hundred kittens this season. With no end in sight, we anticipate many more will find comfort and warmth with us. Please click here to help  us continue our vital work and honor all the wonderful kitty moms. 
Abandoned in a small filthy space, Mustard fought the other cats for the few scraps of food he could find. Starving and sick, Mustard is now at MHAA and needs your help.
Special Announcement!
A HUGE THANK YOU TO  Squirrel Den Studio for selecting MHAA as "Shelter-of-the-Month" for September.  Barbara Lipp, local designer and …
Learn More »
Join us at the beautiful Powelton Club in Newburgh, NY for our annual Goods and Services Auction. November 16, 2014 Viewing: …
Read More »
Hoopla Frozen Yogurt FR On October 4th, Hoopla Frozen Yogurt on Route 9 in Poughkeepsie NY will donate 20% of …
Read More »
For a limited time, any cat that has been at the shelter for more than 3 years is available for …
Read More »
Meet Ringtail!  She's our featured cat for October and is available for adoption. Ringtail came to the shelter from a …
Read More »