Brass
Age: 3 months old
Likes:  Brass enjoys running, hanging out with her siblings, and cuddling.
About:   Brass is such a sweet little girl! She is your typical playful and loving kitten and found her forever home!  We wish Brass the best of luck in her new abode!
Learn More »
Anabelle
Age: 2 years old
Likes: Anabelle gets alone well with other cats and enjoys cuddling.
About: Anabelle was found living on someone's boat before coming to the shelter. She is a gentle and sweet cat. Anabelle is a Maine Coon mix, is spayed, has up-to-date routine shots, has a micro-chip (in case she gets lost), and is house-trained. Anabelle is ready for her forever home. Come for a visit and meet her – and fall in love!
Learn More »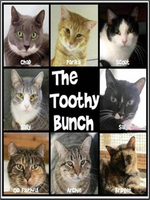 Stray and abandoned cats have less than ideal health and are at risk of developing dental related diseases. Become a MHAA Tooth Fairy and support our felines' dental health! Click here to donate.
Each year, over 3 million adoptable pets are euthanized in the USA. Spaying/neutering your pets helps prevent this. Please support MHAA's spay/neuter efforts by clicking here to donate.
Special Announcement!
Mid Hudson Animal Aid has a small number of limited edition T – Shirts still available for $30. Process your …
Learn More »
Join MHAA and our guest bartenders on Sunday, September 28th from 1pm- 4pm at our Newburgh Brewing Company fundraiser! Newburgh Brewing …
Read More »