Pizza
Age: 10 months old
Likes: Pizza gets along well with other cats and dogs, and loves children. She also loves to snuggle and play.
About: Pizza came from a hoarding situation but has adjusted very well.  She is very friendly and is one smart kitty.  But Pizza didn't go home alone. Tootsie, a little black kittten, was also adopted along with Pizza!  We wish both Pizza and Tootsie the best as they enjoy their new forever home.
Learn More »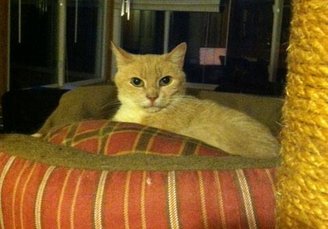 Apolla
Age: 9 years old
Likes: Apolla likes hanging out with the other cats in the shelter.

About: Apolla does well in a quiet environment and would love help finding her inner house cat again. She gets overwhelmed in the shelter and often hides. Therfore, people mistake her for being unfriendly, but she's not. Apolla even lived in a home for several years until they moved away without her.  She will make a terrific companion if you'll give her a chance.She is spayed, has up-to-date routine shots, has a micro-chip (in case she gets lost), and is house-trained. For a limited time, Apolla is available for adoption for a special fee of $50 for cats that have been at the shelter for over 3 years.
Learn More »
MHAA has provided a stable and caring home for over one hundred kittens this season. With no end in sight, we anticipate many more will find comfort and warmth with us. Please click here to help  us continue our vital work and honor all the wonderful kitty moms. 
Abandoned in a small filthy space, Mustard fought the other cats for the few scraps of food he could find. Starving and sick, Mustard is now at MHAA and needs your help.
Special Announcement!
$50 ADOPTION SPECIAL! For a limited time, any cat that has been at the shelter for more than 3 years …
Learn More »
Join us at the beautiful Powelton Club in Newburgh, NY for our annual Goods and Services Auction. November 16, 2014 Viewing: …
Read More »
Meet Ringtail!  She's our featured cat for October and is available for adoption. Ringtail came to the shelter from a …
Read More »
Mid Hudson Animal Aid has a small number of limited edition T – Shirts still available for $30. Process your …
Read More »