Facts & Figures
In the year 2013…
– 157 cats were adopted.
– The average length of stay for a cat was 8 months.
– The average daily occupancy was 135 cats.
– We used 168 cans of good and 1,000 pounds of litter a week
– We spent $1,300 per month for food and litter.
– We spent $6,667 per month for medical supplies and veterinary expenses.
– It cost an average of $2.40 per day per cat for food, litter, and medical needs.
Another way to view where your donations go is illustrated in the following chart: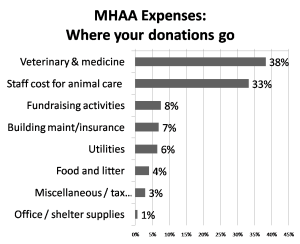 Did you know that…

We are an independent, non-profit 501(c)3 organization funded by donations and some grants.
100% of your donation goes to the animals at our shelter.
Every donation matters! An hour… a bag of food…. $5.00…nothing is too small.
We are one of the few local shelters that house and adopt out FIV (Feline Immunodeficiency Virus) and FeLV (Feline Leukemia Positive cats).